Stuck at home with the kids? Don't worry, it will be fun! We've come up with 100 awesome indoor activities for kids that you can do without leaving the house.
From the good, old, classic indoor games such as Charades and Hide and Seek, to fun crafts at home, and a whole lot more, there's enough here to keep your little ones entertained for days on end. And we haven't even mentioned the delicious easy recipes for kids yet…these are a true crowd-pleaser!
Whether you've got tech tykes, little artists or tiny action-seekers at home, diving into these things to do indoors with kids gives you the perfect chance to get close to your kids and spend quality time together. Ready for some indoor family fun to remember?
Quick find: Arts & Crafts | Games | Screen time | Educational | Recipes | More | IXL Learning | Disney+ Free Trial | MEL Science
Crafts at Home
Doing arts and crafts at home is an oldie but goodie. From learning the ins and outs of sewing with nan to making a time capsule with our siblings, we all have our unforgettable childhood stories to tell. Here are some ideas to keep you and your little ones going.

Create paper animals

If you've got some card, scissors and a pen lying around then you're in luck, as that's all you need to make these simple animal crafts at home. There's a lion, elephant and orangutan, or you can get creative and make your own!

Try these toddler craftsGot a toddler to keep busy? This list of 6 easy toddler craft ideas are great for little hands, and help to develop scissor skills too!
Make Easter bonnets

Move over Easter Bunny, this year we're learning how to make Easter bonnets with the kids! Decorated with chicks, eggs and maybe even some fake grass – the list is endless. Beware, they'll be wanting to wear them all week!

Decorate eggs

Decorating eggs is another Easter-inspired craft, but one that can be done all year round if you're stuck for ideas on entertaining the kids at home. For these, all you need is some hard-boiled eggs and then all the crafts you can think of – from paint and pens, to stickers or temporary tattoos!

Order a ToucanBox

Haven't heard of ToucanBox yet? Well you're in for a world of fun! Packed full of arts, crafts and a magazine, this little box is full of great surprises, plus it's delivered straight to your door!

This Easter, ToucanBox is offering a very special seasonal box, including all the things you need to make a Bunny Racer and a Mini Greenhouse, plus loads of stickers, the latest ToucanBox Magazine and a collectable surprise. To make things even better, you can now get 50% off on your first monthly subscription box!

Get 50% off on your first ToucanBox


Do pottery painting at home

Can't make it to a pottery centre near you? Mum Penny has your guide for pottery painting at home. You can either buy a porcelain shape online, or get creative and mould your own shapes using hardening clay, then whip out the paint and get creative!

Mix Harry Potter potions

Ever fancied joining potions class at Hogwarts? Recreate the magic, with these Harry Potter inspired potions to make at home. From fizzy cauldrons to goblin snot juice (yes, really!), kids will love the mixing mayhem and you can rest assured that there's a science lesson in there too!

Dinosaur garden for kids

If dinosaurs and digging seem like the perfect combo, you'll love making this easy dinosaur garden for kids. Use things you have lying around the house or garden to create your perfect dinosaur haven, and add some succulents to give it a real Jurassic feel (they need very little care too, so it's easy to manage!)

Make bird feeders

Help the birds enjoy their lunch, by making these easy bird feeders. Made using things you'll most likely have at home already, these super simple creations were made by Kate's two kids, aged 3 and 6, so it's great for even younger families. Make it, hang it, then watch as the birds tuck in!

Toilet roll crafts

Sometimes the best craft activities are those that don't cost you a penny! Dig out your craft supplies and have a look at our list of 5 crafts to do with toilet rolls, but the options are really endless with these reused rolls!

Make your own recycled robots

One man's trash is another man's treasure, and this saying couldn't be more true when it comes to recycled robots. Raid your recycling bin and get creative with our guide on how to make recycled robots.

Get artistic with painted rocks

A day inside doesn't mean you can't venture out to the back garden! If you've got stones in your back garden, check out our tips for painting rocks, it'll certainly brighten up your garden!

Sticky back plastic crafts

Sticky back plastic is a great addition to any crafter's life, and the little ones will love it. We've put together some different crafts with sticky back plastic, but the options are endless!

Turn a cardboard box into something fun

Fact: kids love cardboard boxes. So dig yours out of the recycling and repurpose it into a fun indoor activity. We love Kate's ideas for 10 things to do with a cardboard box.

Make a time capsule

Want to treasure your memories? Get creative and make a time capsule to bury in the back garden so you never forget a thing. Have a look for some photos, keepsakes, or anything else you feel like putting in!

Make sock puppets

Got odd socks lying around? Put them to good use and get creative! With some glue, googly eyes, and string for hair, you can transform your old socks into some awesome creatures to play with.

Make a scrapbook (or smash book!)

Scrapbooks are always a fun one, who remembers the scrapbooks they used to make? Go one step further and have a look at this guide for how to make a smash book, it's like a scrapbook with no rules or themes, just loads of great family memories!

Create a paper plate dragon

It may not be St George's Day, but making a paper plate dragon sure sounds like fun! This super simple craft is perfect for an afternoon activity, and making them is only half the fun!

Make a castle with cardboard, pens/paint/pencils and/or colourful paper and glue

Live out your fairy tale by making your very own castle. Depending on what cardboard you have, they can be mini or huge, and you can decorate them with whatever types of crafts you have around.

Create life-sized drawings

Grab some pieces of paper and stick them together, and then get your kids to go for a lie down – on the paper! Trace their outline, then once complete, get the colouring pens out and let the kids go wild in creating a new look.

Make slime

Who doesn't love slime!? Your little ones will love getting messy with this homemade slime recipe, plus it's easy to do. Making the slime is only half the fun, the real excitement starts once you can get your hands on this gooey ball of fun!

Make a DIY Jellyfish with paper plates and string

Make your own jellyfish, and all you need are paper plates and string! Colour your plate in and stick your pieces of string on the bottom of the plate – give it a wiggle to see your tentacles move! For bonus fun, decorate using glow in the dark pens.

Make rainbow rice

Who doesn't love rainbows? Making rainbow rice is an easy sensory activity, and you'll have just as much fun making it as you will playing with it. Once dyed, play around with mixing colours, add toys like dinosaurs or trucks, or use to create your very own masterpieces!

Make and fly paper planes

Paper planes are a classic game, and the best part is all you need is a piece of paper! Get folding and test your aircrafts out by having a little competition, you can even set up some hoops and see who's got the best navigation skills. (Psst, check out this Newsround guide for a reminder on how to make a paper plane!)

Make a Fairy jar

For a little bit of magic, try out this fun fairy jar tutorial – it's perfect for adding a little bit of sparkle to your day! They're fun to make, and they look spectacular once you've made them.

Make your toys parachutes with cloth and string

Want to go skydiving? Try the next best thing and send your toys skydiving! This one works best for small plastic toys, and all you need to do is get an old piece of cloth, cut some holes and feed some string through, then attach your toy to the makeshift parachute and they're away!

Make beautiful press flowers

Got some gorgeous flowers in your garden at the moment? Take a little snip at your favourite flower and leave it between some heavy books for a few days, by the time you come back your pretty flower will be preserved and ready to be used in some pretty crafts!

Create a nail varnish marble painting

Dig out those old nail varnishes that you'll never wear and put them to good use. Fill a little dish with some water and splat your chosen colours in, then grab a cocktail stick and swirl away!

Create tissue box monsters

Been going through those tissues? Rather than chucking the empty box, put it to good use and make your own tissue box monsters. This super easy recycled craft will keep the kids happy for a while, and there's loads of fun to be had with your monsters too!

Build paper chains

Ah the classic paper chains! There's so much you can do with these, from making some awesome decor for your house, to fashioning a pretty bracelet or necklace, and decorating them is pretty fun too!

Make a paper pinwheel

A simple but fun little craft! Have a look at this little tutorial on how to make a paper pinwheel, dig out your colours and get crafting! A pretty pinwheel in the garden will definitely brighten up a windy day.

Get messy with macaroni art

Another classic, but it's so fun! The options are endless when creating a macaroni masterpiece, whether you keep it simple or get your paints and go all in. The best part is that all you need is some pasta, paper and glue.

Make paper boats and see if they float

Making some paper boats is a great craft for kids to do at home, and it's pretty simple too! Have a look at this tutorial for how to make paper boats, and the fun doesn't have to stop once you've made them, why not see if they float

Make a collage

Making a collage is a great thing to do if you're stuck indoors, and there are so many options. You can draw, stick things, paint things, even make things to go on your collage, just pick a topic and get crafting!

Tie-dye some old t-shirts

Who remembers tie-dying some old t-shirts when they were younger? We definitely do, so why not share the joy of tie-dye with your little ones? Check out this guide on how to tie-dye with kids, and create some groovy new looks.

Make a dinosaur habitat box

Got dinosaur lovers? Make your own dinosaur habitat box with this awesome tutorial, and the best part is it's all with things you've already got! Plus, all your kids' toy dinosaurs will have a home they can live in too!

Indoor Games for Kids

We love indoor games for kids! Being inside means giving your imagination a good work-out, plus it's a wonderful opportunity for some family time.

Gather round for a family board game

From Snakes and Ladders to Monopoly, there's a board game to suit everyone in your family. That's why board games have been the centre of family entertainment for decades. Plus, you can still get a good work-out with a board game…just try Twister!

Play a mystery gameIf your kids love riddles and science, they'll go wild for our brand new mystery game – The Mystery of the Missing Potions. Designed for mini adventurers, aged 4-8, it's free to play online, anytime you like. Time to help Professor Forgetnic find the missing ingredients and complete his secret potion!
Organise an indoor scavenger hunt

A scavenger hunt at home is one of those indoor activities for kids that really calls on your creative side. Whether you fancy hiding clues around the house and hand-making a map to find the hidden treasure, or you'd rather set a few scavenger hunt tasks all within your favourite book (find someone who's wearing green, find three apples, etc.). There's so much you can do… Here we've got a free printable indoor treasure hunt for you too!

Play "Animal Charades"

Animal Charades is a game that can be played by kids of all ages. It's easy, fun and will have your little ones in stitches, watching you jumping around like a monkey, or licking your paws like a cat. To make the game easier, here are some printable animal charades for you to try.

Throw a talent show

Organising your own talent show is one of those indoor activities for kids that the grown-ups may enjoy more than they expect. Whether it's singing, dancing, stunts or a comedy routine, your special skills will be appreciated. Lots of laughs guaranteed!

Participate in a drawing competition

Set a theme – whether it's Easter, Christmas, Mother's Day, animals, or something else, your little artist will be all over it. If you ask us, everyone's a winner, so why not make the drawings a prize the adults have to compete for? That way each child will feel happy and accomplished at the end of the game.

Play "Hot and Cold"

We've all played this one! Just pick an object, hide it anywhere in the room and then guide the person searching for it by yelling hot or cold, depending on whether they're getting closer or further away from your hiding spot.

Play "Black Peter" (card game)

Black Peter is one of our best-loved card games for kids. It's played with a special deck of cards that are all split in pairs, except one – Black Peter. At the start of the game, all cards are dealt and each player discards all pairs he has. Then players take turn to pull one card from another player until all pairs are discarded and only Black Peter is left. Whoever has the Black Peter card is the loser. Don't have a special deck at home? Get creative and make your own!

Play "First letter, last letter"

This is an easy word game you can play both out loud or in writing (if your kids are older and need to practice their writing). The first person to start says a word and the next person has to say a word starting with the last letter of the previous word. It's harder than you think!

Play "Hide and Seek"

No need to explain this one! Even if you think you don't have enough space at home to play hide and seek, we can guarantee you your kids will find plenty of imaginative hiding spots all over the place. Ready or not, here we come!

Play shop/school

Setting up your own grocery store and enacting an exchange with the helpful worker at the till, or arranging your little one's favourite toys in pairs, as if they're sitting in a class room, are two of the easiest indoor games for kids. They can go on for hours too.

Role-play your favourite fairytale

No need to find 7 people to play all the dwarves, just change your voice and voila! You'll be switching between Grumpy and Dopey in no time. Also, it's a great occasion to pull out the old princess dress or a knight's sword from the dress-up box. With so many stories to explore and recreate, you can have a different theatre programme every day.

Play "I spy with my little eye…"

Playing "I spy with my little eye…" is not only a car ride favourite, but also one of the easiest things to do indoors with kids. You'd be amazed how many things you actually have around you that you had forgotten about.

Fish for letters/numbers

Do you have some of those magnet letters/numbers lying around? Well, just dump them in a bowl of water; then tie a thread to a pencil and attach a paperclip at the end to make a fishing rod – job done! You're now ready to send the kids to go fishing.

Ring toss game with paper plates and kitchen roll

The ring toss game is usually something you'd do outdoors to avoid breaking anything. This version of the game, however, is safe to play at home. All you need to do is cut out the bottoms of a few paper plates, stick an empty kitchen roll tube on the ground and start practicing your throws. Just a tip, to make the tube more stable, you might want to attach it with duct tape to a piece of carton or a sheet of paper.

Go on super spy training

Every good spy movie has the main character go through a laser beam obstacle course. Set up your own using rope, knitting thread or a string. Tie it across different objects in the house (chairs, tables, staircase rails) and watch your mini spies crawl, bend and tip-toe their way through.

Host a family game show/quiz

It takes a bit of preparation but organising your own family quiz is a great indoor game for kids and adults alike. Separate into teams and let the competitiveness ensue! Not enough people to form teams? Add game show rules to the quiz, like "The first person to raise their hand gets to guess the answer, if they fail and their opponent gets it, the opponent steals their point". You can get as creative as you like.

Invent and make your own board game

Yes, we already mentioned board games earlier but what if you've lost your favourite game somewhere in the attic, or you've simply grown bored of it? Well, we think you can make a brand new one! Decide the topic – from prehistoric adventures to car races, it could be truly anything. You can use toys as the moving pieces and you can even make a dice out of paper. You'll have as much fun creating the game, as you will playing it.

Go digital!

If you can't get the kids to get away from their favourite screens, then turn the enemy into a friend with these great game apps the whole family can play together. It's something even the teens might get excited about!

Play a Shake Up game

Get a 10-minute burst of fun, thanks to Change4Life's 10 Minute Shake Up games! Perfect for all ages, these games feature your favourite Disney and Pixar characters, so you can take on Hank's Tentacle Challenge, Kristoff's Ice Harvest or loads more – and they're all FREE!

Looking for even more game ideas?

As a work-from-home dad, Stuart has been there, done that and got the list of indoor games for kids that he's tried and tested with his son.

Great TV & Movies for Kids

One of the best things to do at home is to cosy up in front of the TV, catch up on your favourite series, or re-visit the unforgettable classics. Here are some ideas to help you choose what's next on your to-watch list!

Download Disney+Imagine a place where you can watch over 1,000 of your favourite Disney, Pixar, Marvel and Star Wars movies and series – and yep, that's Disney+. The brand new streaming service is a must-have for families, packed full of big blockbusters and exclusive original content you won't find anywhere else, you can stream on up to 4 screens at the same time – perfect for when the kids can't agree on what to watch!

Why not give it a test run whilst the kids are off? Sign up below to enjoy a FREE week's trial of endless entertainment! If you decide it's not for you then just remember to cancel before the end of your trial, or if it quickly becomes something you can't live without, sit back, relax and enjoy a whole world of Disney magic in your living room!

Watch the 50 best family films of all time

There are some movies that never get old. Check out our list of the top 50 must-see family films of all time, find one of your childhood favourites and share it with the kids. Don't forget to make popcorn before you start!

Top things to watch on Netflix

Time indoors doesn't always have to be action-packed, and sometimes sitting down in front of the TV is just what the doctor ordered. With thousands of things to choose from on Netflix you'll never be stuck for options, but if you're not sure where to start, here are our top 5 things our DOWTK are loving right now:

Word Party
The Investigators
Masha & Bear
H2O Just Add Water
Peter Rabbit

Educational Indoor Activities for Kids

Games can be educational too! This section of our list of great indoor activities for kids looks at the things you can do at home to inspire everyone from the young scientists to the budding writers.

Make learning fun with IXL Learning

Let's face it, the last thing kids want to do at home is school work. Keyword here being "work". IXL Learning, however, takes a much more engaging approach to studying, using fun learning activities to capture your little ones' imagination.

Covering 5,000 skills in maths and English for Reception-Year 13, IXL is a great tool, no matter what age your kids are. Featuring Real-Time Diagnostic pinpoints and personalised guidance, the system is designed to help each child master new topics at their own pace. Plus, you can keep up to date with your little ones' progress, with easy-to-use reports in IXL Analytics. From algebra to adverbs, with IXL your kids will be acing it all in no time!

Science experiments for kids

You don't need a lab coat or goggles for these cool science experiments for kids. From jumping frogs, to rainbow skittles, and even an erupting volcano, kids will barely realise they're learning with these science-based activities.

Sensory play at home

What's a better way to describe sensory play? Hmm.. how about touching everything, getting mucky and making a mess? If that sounds like something your tots would absolutely love, these 3 sensory activities might become your go-to indoor activities for kids. And don't worry – the mess is contained, so you won't have to worry about cleaning the whole house afterwards!

Get hands on with MEL Science

The best way to learn science is definitely with hands-on activities – just think about your science lessons at school for all the proof you need! That's where MEL Science comes in, delivering an action-packed chemistry experiment to your door every month!

Tackling a new topic each time from tin hedgehogs and fire foam, to colour-changing milk and more, your first box includes a starter kit packed with all the equipment and tools you'll need. Perfect for curious kids, and intriguing for adults too, what will your first box include?

Save tiny animals from ice cubes

Ready to break the ice? This simple freezing science experiment is the perfect indoor activity, and you've already got everything you need! Who knew freezing and rescuing toys could be so fun?

Fun experiments using eggs 

Here's one egg-cellent way to have some science-y fun! Great for some indoor Easter fun, but these little egg-speriments are brilliant for any time of year. Who's going to be the first to drop an egg then?

Grow plant with the kids in your garden 

Just because you're staying at home, doesn't mean you can't get some sunshine and fresh air! Head into your back garden and get your fingers green with these great plants to plant with the kids.

Pick 5 new books to read

Reading is a great way to kickstart imaginations, develop language skills and can be great fun too, so get the kids to set themselves a challenge to read 5 new books, whatever level they're at. Need some help? Check out these 5 tips to encourage your kids to love reading.

How to encourage the kids to write

Spark your little one's creativity and let your imagination go! Writing is a great way for expressing yourself, and there are endless amounts of stories to make up, but before you start have a look at our tips on how to make writing fun for kids, and then get going!

Word game – how many words can you make from a sentence?

Here's a little exercise to get your vocabulary working. Write a sentence and use the letters in it to come up with as many words as you can. Once you put a timer on it and turn it into a competition, it's game on!

Start a new language

Ola! Привет! Konnichiwa! Bonjour! It's never too early or too late to start learning a new language. In fact, kids usually tend to pick up new languages faster than adults, so why not learn a few words in a new language together? Duolingo is a good place to start. Try it, it will be fun!

Alphabet find activity

The alphabet find activity is the perfect indoor activity to keep the little ones busy, active and learning the alphabet at the same time! Just write large letters on pieces of paper/post it notes, attach them in different places around the house and get the kids to find them. Once the alphabet is complete, you can start all over again.

Make invisible ink with lemon

Fancy yourself a spy in the making? Try making your very own invisible ink at home, and all you need is a lemon and some water! This super spy experience is top secret, so try it out and you can communicate in code!

Emoji code breakers

Pick 10 emojis and give them each a number. Build equations using the emojis and get the kids to solve, for example if 😍=2 and 🤓=4, 😍x🤓=8! Tailor it to suit your kids ages, including multiple calculations in one.


Roll the dice game

A simple maths game for kids, simply roll a dice to start. Then, with every new roll, do a different action. Your second roll could be to add whatever your roll to your first number, then the third roll could be to subtract the third number you get from your answer to your second – keep building as you go.
Egg drop science

Use 3 eggs (if you can spare them!) – your mission is to protect them from a drop. Using stuff you have in the house, build them a protective layer (egg boxes and bubble wrap are a good start!) and a parachute – imaginations are welcome! Then, once you're happy, drop them from a height and see which works best!
Describe the room

A great activity for English and creative writing, the challenge is to describe the room you're in – but not literally! Use your imagination to think of a 'room', then write for 15-20 minutes (longer if you need it) to describe it. The more creative your room the better – as an example, when Lisa from the team tried it, she was a cornflake trapped in a Rice Krispie cereal box!


Make a word search



Easy, quick and one you can do over and over again. Get the kids to create their very own wordsearch, either using random words or around a set theme. Once made, see how many you can find!

Play maths – Countdown style!

You all know how to play Countdown – 2 from the top and 4 little ones? Make your own version by writing 25, 50, 75 and 100 on separate cards, then the numbers 1 – 10 on their own cards too. Pick 6 cards, then pick a random number and try to hit it – remember to try and only use each card once per game.

Easy Recipes for Kids

Kids love getting messy and eating sweets, so it's no surprise that baking with the little ones is one of our favourite things to do with kids at home. Getting your mini chefs to help with making dinner for all the family is also quite fun when you've got the right recipe at hand. Luckily, all the recipes we've got are easy recipes for kids below; they're both yummy and effortless. All the more reason to try them all!

5 tips for baking with kids

Before we go any further, if team cooking with the kids is something new to you, you'd probably want to read these 5 tips for baking with the kids by master baker Rachel Brady, who has plenty of experience baking with her two little ones.

Easy banana pancakes

Pancakes aren't just for pancake day, and these fluffy banana pancakes make a great treat at any time of the day! You'll only need a few ingredients and they're super quick – and yummy too!

5 pancake art ideas

Speaking of pancakes, why not make your kids' favourite breakfast into a proper creative venture? With these 5 cool pancake art ideas, you can have anything from a dinosaur to a bear on your plate!

Delicious gingerbread shapes

Who doesn't love a good gingerbread biscuit?! Try this easy gingerbread recipe with your kids and you won't have to wait until Christmas to bite into a delicious gingerbread man. Plus, you'll learn how to cut other biscuit shapes. If you're feeling creative, you can even come challenge your kids to come up with a new shape of their own.

Easter nest fairy cakes

Baking and decorating your Easter nest fairy cakes is the perfect indoor activity for kids during the Easter holidays. However, don't let the name fool you, these cakes are so yummy, you'll want to make them all year long. Just change up the decoration and you'll get the same indulgent taste with a whole new look.

Hot chocolate recipes

Desserts come in all shapes and sizes, including liquid! With these 4 decadent hot chocolate recipes, you'll be sipping on smooth chocolatey goodness, bursting with flavour in no time.

Mild chicken fajitas for kids

Stuck for dinner ideas? Try this recipe for chicken fajitas for kids – mild in terms of spice, but packed full of flavour! Tried and tested by mum Emily, you can cook it all up and let the kids serve (and wrap!) themselves.

Easy Lemon Drizzle CakeLooking for a baking idea for kids? This lemon drizzle cake recipe is easy peasy lemon squeezy, and we can confirm it tastes good too!
Mug Cake Recipe

There's nothing easier to make than a microwave mug cake, which doesn't make it any less delicious. Try it for yourself if you don't believe us!

Making rainbow cupcakes

How about you make yourself a treat fit for unicorns, magicians and awesome kids? These tasty rainbow cupcakes will be a crowd pleaser. Chances are they won't last too long around the house once your mini bakers get their hands on them.

Make Frozen banana lollies

It's never too cold for ice cream, and these frozen banana lollies are set to be a hit with the whole family. Banana, strawberries, chocolate and hundreds and thousands are all you need – the test will be resisting them until they're frozen!

Make homemade pizzas, with whatever toppings you like!

Pizzas are always a winner, and this recipe for homemade pizzas and tomato sauce is sure to be a hit with the whole family. Quick, easy and delicious too, everyone can choose their favourite toppings. The best bit is that you'll have fun making them, and eating them too!

Rainbow Fruit skewers

Struggling to get the kids to eat fruit? Try these colourful rainbow fruit skewers! Featuring strawberries, pineapple, grapes, kiwi and more, you can swap out anything the kids don't like.

Cake pops

This cake pop recipe is a fun twist on the usual cupcake, making them a tasty treat to make with the kids. Using all your usual cupboard baking ingredients, the kids will love helping to decorate them too.

Blind taste tests

Blindfolds on, food on the plate – let's see if your kids can guess what's on the tasting platter! It's a fun sensory activity for all ages. Yes, that's right – adults should also take their turn on the tasting side of the table!

Other Fun Things to Do Indoors with Kids

There are plenty of awesome indoor activities for kids you can try at home and not all of them fit in a category (that's how cool and unique they are!). We've got some of these right here for you.

Build a den or fort

Grab blankets, sheets, pillows and cushions and create your very own secret den. Use it for secret stories, watching films or just as a super comfy place to relax – it really is the ultimate family indoor activity!

Do a family workout

Burn off all that extra energy and get fit with a family-friendly workout! These 5 Minute Move videos from Joe Wicks, The Body Coach, are specifically designed for kids – fun, fast and with no equipment needed!

Have a tea party/picnic

Dig out that picnic blanket and host a tea party – in your living room! Bring all your favourite food and drink and enjoy all the fun of a picnic indoors. You could even invite your teddies and toys to join in.

Build a bug hotel

Make a haven for all sorts of wildlife, with this step-by-step guide to building a bug hotel using things you'll find in your garden!

Do some yoga together

Has all this being stuck indoors got you feeling a bit tense? Streeeeetch it out with some yoga for kids, following Laura's top tips for getting your little ones involved.

Play Prompts

Great for learning or just for fun, PlayPrompts are packs of activity cards featuring lots of quick, simple and easy activity ideas. From ABCs to things to do in the garden, they make it easy to keep the kids occupied.

Build a fairy garden

Being stuck at home doesn't always have to mean staying indoors, so why not venture into the garden to create a magical fairy garden? We love these tips from mum of 4, Anna, for making a fairy garden.

Start a band

Remember the days of performing for your own parents? Get the kids involved this time, by arming them with all they need to create a rocking new band. Create makeshift instruments with pots and pans, and challenge your lead singer to write a brand new song – just be prepared for an increase in noise levels…

Have a fashion show

Dig out the dressing up box and get ready to impress. Create a catwalk in your living room and challenge the kids to strike their best poses – the funnier the better! No fancy dress? No problem – let them raid your wardrobe instead!

Create your own town for cars using tape

This easy indoor activity is great fun for kids, and can be done in any space. Grab masking tape (electrical tape or washi tape works well too!) and create 'roads' for your kids' cars to drive on – its hours of entertainment! Check out bubblesandbellylaughs for inspiration.

Play games on Alexa

From lights and timers, to today's weather forecast, did you know you can also ask "Alexa" to play games? From a family-friendly Would You Rather, to a Spongebob Challenge, check out this ultimate list of the things kids can ask Alexa to do.

Online museum tours

Experience the best of museums from around the world, all from the comfort of your sofa thanks to these virtual tours. From art to artefacts, you'll get to look around some of the exhibits at famous museums, including Van Gogh Museum in Amsterdam and the Guggenheim Museum in New York! Thanks to dad-of-two Joe Pendlebury for spotting!

Have a dance contest

Inspired by The Greatest Dancer or Strictly? Show off your best moves with an impromptu dance-off! From ballet to breakdancing, tap to jazz, you could even create your own scoring paddles for the ultimate judging!

Explore things with Google Maps

Fire up Google Maps and see if you can find everything from your school or house, to your favourite day out! Use the little yellow man to check out street view and see what you can spot!

Create your own secret language

Try swapping letters, or adding numbers to come up with your own unique secret language! Anci ouiy rackci tii? 😉

Play with shadow shapes

All you need is a wall, a lamp and your hands – how's that for an easy indoor activity? Create your own hand puppet shows, creating a range of animals and birds. Check out this guide for how to make hand shadow puppets for ideas, and get creative to try and make your own!
So, here we go, those were 100 of the best indoor activities for kids we know of. Which ones are your kids' favourites? Can you think of more fun things to do at home and indoor games for kids?
For even more indoor things to do, take a look at these:
Facebook group | 50+ garden games and activities for kids | Free downloadable home learning schedule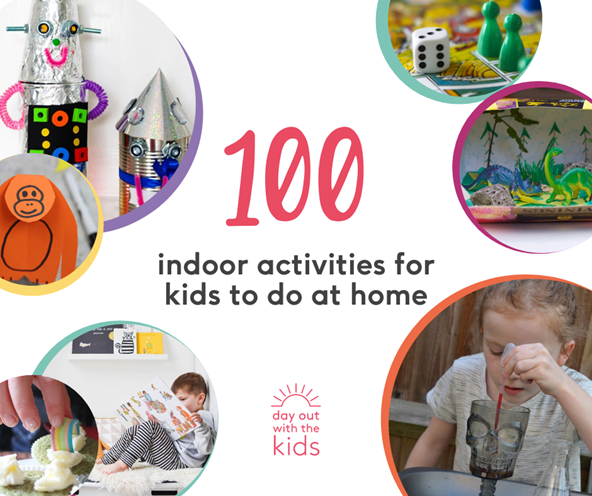 *Please note this post contains some affiliate links that we may get some money from at no additional cost to you.