For getting out and about with the kids, the seasons don't get much better than this – autumn activities bring changing colours, welly walks, conker collecting and a feast of Halloween events. 
So whether you're on the lookout for the best place to toast marshmallows, carve pumpkins or simply enjoy the great outdoors this autumn, then we're on hand to help with some brilliant autumn activities you can try from anywhere in the UK.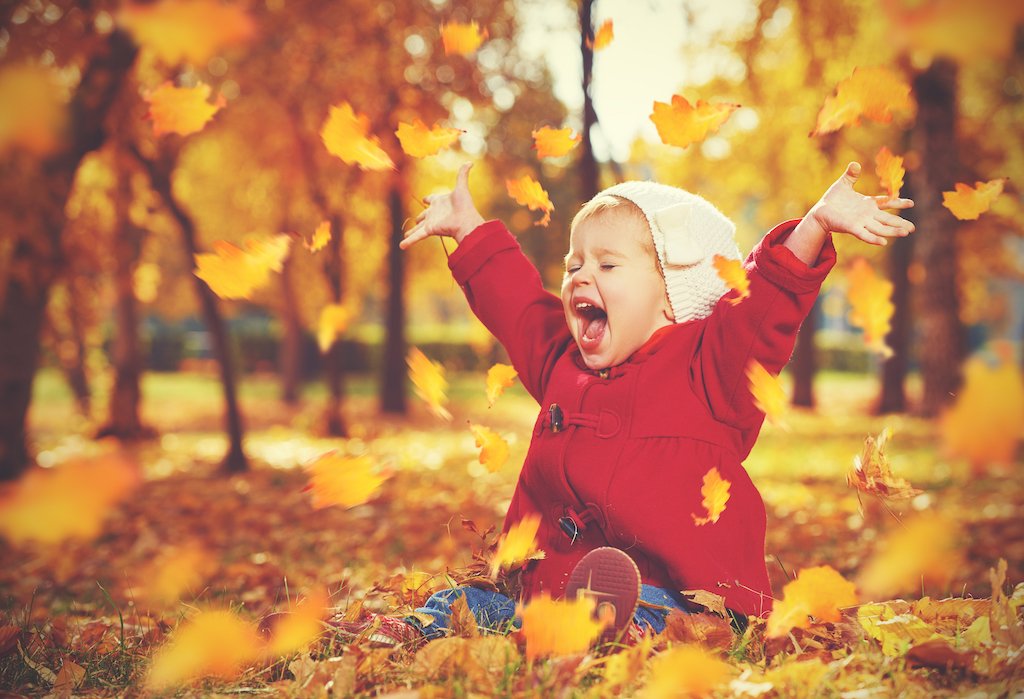 35 things to do in autumn:

Go for a walk in the forest
With a carpet of red, yellow and orange leaves spread across the forest floor, going for a walk in the forest is one of our favourite autumn activities. It's pretty, perfect for photos (try tossing some leaves in the air and taking a pic just at the right time) and your kids will love jumping in the leaf piles! Here are some ideas for where you can plan your next family walk. 
Visit a deer park


Autumn is the start of rutting season, making it the ideal time to visit a deer park. Watch from afar as male deer battle head-to-head using their antlers, all in an attempt to woo a female deer!

Go to a harvest festival


Celebrate the best of homegrown fruit and veg at a harvest festival.

With food, farming demonstrations and loads more family fun, it's great for the whole family.

Go on a lantern trail


The nights drawing in isn't all bad, it also means you can head out after dark to see spectacular lantern trails. Intricate designs and stunning sets are lighting up parks around the UK – make plans to visit your nearest this year!

Go rockpooling


Rockpooling doesn't just have to be a summer activity! Avoid the crowded becahes and take a closer look and see what creatures you can find!

Jump in a pile of leaves


Sometimes it's the simple things that bring the most fun, like jumping in a crisp pile of autumn leaves! Head to your local park, or even your back garden, to create your own leaf piles.

Toast marshmallows


Not just for camping trips, nothing beats a freshly toasted marshmallow. Keep it classic, or serve as smores, for a tasty autumn treat.

Collect conkers


Guaranteed to excite the grown ups as much as the kids, grab a bag and see how many conkers you can collect. Use them to play the classic game, or try some arts and crafts at home – we love this

conker caterpillar

idea!

Go on an adventure


Go on an adventure…or at least an adventure trail! Lots of parks and forests host those every year and the kids just can't get enough of them. We recommend you try a Gruffalo Spotters available at Forestry Commission England sites across the country!

Spot scarecrows


Often stars of the

harvest festival

, scarecrows sometimes get their own spotlight too, with scarecrow festivals taking place in towns and villages across the UK! They normally have a theme, with residents creating incredible scarecrow designs. If there's one near you, it's definitely worth a visit.

Host a family movie night


It's cold, dark and probably raining. The plan? Grab your blankets, snuggle on the sofa and watch a film together as a family. Share the snacks round, or order a takeaway, and you've got the perfect night in together. Need ideas for a film? Work your way through our list of

10 family films all kids have to see before the age of 10, or get even more inspiration from our list of the 50 best family films of all time

.

Drink hot chocolate


Warm up after a day outside with a tasty hot chocolate. Feeling fancy? Make your own using real chocolate, we've got your guide to

how to make real hot chocolate, 4 different ways

!

Listen to spooky stories


Get in the mood for Halloween, by hosting your very own haunting bedtime story! Choose something spooky to suit your kids ages, then read by torchlight for extra fear-factor. Don't fancy reading? Sign up for a

free trial of Audible

and listen together whilst a famous name reads it out loud for you!

Learn about bats
It's the start of mating season for bats, ahead of winter hibernation, but there's still plenty of time to learn about these amazing creatures. Check out the National Trust guide.
Watch an autumn sunset


Sunset is getting earlier and earlier, which is great news if you've got younger kids in tow. Check online to see what time it's due to set, and aim to be in the perfect spot about 10 minutes before. Once it starts, it will disappear quicker than you think, then it's home and off to bed!

Collect pinecones


Pinecones fall in autumn, and just like conkers, are a great thing to collect on your next outdoor adventure. Pinecones make great decorations and can be used for printing too. Or, why not try a pinecone bird feeder? Skip straight to #24 for more on that…

Go on an autumn picnic


It might not be as warm as the summer, but eating al fresco in autumn is still loads of fun. Wrap up warm and pack all your favourites into your picnic basket, you could even try including something warm, like soup in a flask! The best thing? You can even include some other activities from this list for the ultimate autumn day out.

Turn the clocks back
Say goodbye to lighter evenings and longer days, as the clocks go back on Sunday 31st October 2021.
Do leaf crafts with the kids


Take advantage of all the colourful leaves on the ground, by taking some home for some autumn arts and crafts!

Make an autumn suncatcher

or do some pretty leaf paintings.

Build a bird feeder


Although feeding garden birds is most important in winter, there's no reason why you can't spend autumn getting your bird feeders ready and raring to go! From oranges to egg boxes, here are

3 easy bird feeders kids can make

.

Make a tasty bonfire night chilli
Cook up the ultimate autumn dinner, a

family-friendly chilli con carne recipe

. You can cook it in one go, or pop it in the slow cooker as a delicious meal to come home to.

Make Halloween crafts
Ready to get spooky? Try out these 3 easy halloween crafts at home, from little spiders to toilet roll crafts, they're simple and fun!
Make some quick and easy Halloween treats
Talking of treats, from scary shortbread to witches' fingers, try these

6 quick and easy Halloween recipes

.

Stay active! 
Who says you can't stay active during the colder months?! Our list of the best indoor and outdoor activity centres around the UK has something for every season, including great rainy day activities, such as indoor climbing, trampolining and more. 
Go apple picking
There's a whole day dedicated to the start of the apple harvest, with Apple Day on 25th September this year. Visit an orchard and pick ripe fruits from the tree, ready to take home to make something delicious (or enjoy in your packed lunch!).
Make hedgehog bread
Another tasty recipe to add to your autumn collections, and it looks as good as it tastes too! Find out

how to make easy Hedgehog bread rolls

now.

Go pumpkin picking
We're currently looking into the best places to go pumpkin picking near you, so watch this space and get ready to get spooky…
Carve pumpkins


So you've picked your pumpkin, now what?! We've got your guide to

5 easy pumpkin carving ideas to do with kids

.

Plan a Halloween day out
Halloween is one of the biggest dates in the autumn calendar, so it's never too early to start making plans. Our guide to Halloween events for 2021 will be live soon too, so be sure to check back then!
Find a fireworks display near you


Heading out for Bonfire Night is the ideal way to ensure autumn ends with a bang. We'll have your guide to bonfire night in 2021 soon. 

Visit a maize maze
Maize mazes aren't just for the summer, see if you can find your way to the middle (and back out again!) at a

maize maze near you

.

Dress up
Halloween is the only excuse we need to dress up. Still looking for costumes? Take a look at these Halloween fancy dress costumes for kids

.

Go stargazing
Hopefully we've already persuaded you that the darker evenings aren't all bad? Stargazing is another great reason to explore the night's sky – how many constellations can you spot?
See the Hunter's Moon
The Hunter's Moon is the full moon that comes after the Harvest Moon, typically appearing in October. Also known as the blood moon, it can look a little more orange than your typical full moon – but that's all to do with how close it is to the sunset.
Fly a kite
The weather tends to be a bit windier in autumn, making it the ideal time to hoist a kite in the sky and send it flying! Encourage the kids to give it a whirl, it's an old-school hobby we still love!
We hope this has given you loads of ideas for things to do in autumn and great autumn activities for kids, but for even more great seasonal family day out ideas, check out some of our other blogs: 
Things to do when it rains | Best picnic spots | Best Aquariums | Best mini golf places