With swimsuits tucked away in the drawer and jumpers making their first seasonal appearance, it's just the right time to start looking forward to the next big thing – Halloween!
Pumpkin carving is one of our favourite things to do with kids during Halloween season, so we decided to revisit this lovely article by our friend, Kate Williams from Crafts on Sea, and added some top tips to remember for pumpkin carving. Don't be afraid to let your imagination run wild, get messy and have fun with her 5 awesome pumpkin designs, perfect for your tiny little artists!

Top Tips For Pumpkin Carving

Pumpkin carving can have a reputation as being super messy, but that doesn't always have to be the case! We've rounded up some top tips to remember when carving your pumpkins this year, and some great advice for you to remember too.


Get a good carving set
It might go without saying, but having the proper equipment and tools goes a long way when it comes to creating a masterpiece on your pumpkin! This pumpkin carving set is perfect for creating your creepy pumpkin, and it's safer for small hands too, but that being said, it may be better if you're on hand to help your little monsters!
Get a good pumpkin for carving


So you've got your carving kit, you know what you want your pumpkin to look like, now you just need to find the perfect pumpkin! There's a whole range of different types of pumpkins, from big to little, and from perfectly round to a little bit squished, but it's true that some pumpkins are better for carving than others, so make sure you find one that has a nice surface for carving into.

Have a bowl for the insides


Before you start carving, you'll want to scoop out the innards of your pumpkin, and this is where it can get very messy! To put a light inside to light up your creepy face, you'll want a nice and clean inside of your pumpkin, and it makes the carving so much easier if you get that done.

Keep it fresh


Once you've carved your pumpkin, you'll want to stop it from rotting before halloween! All you have to do is give your pumpkin a cold bath! Soak your pumpkin in a cold bath, and you can add in a little splash of bleach to prevent mould, rub your pumpkin dry as soon as you take it out, and your carving will be fresh as a daisy!

Have a water spray bottle handy


To help your pumpkin keep its structure, have a water spray bottle handy when you sit down to carve it! Once you start carving your pumpkin, it starts losing water, and this can sometimes cause it to shrink or start to crumble over, so keep a spray bottle on hand and give your pumpkin a little spritz every now and then to keep it's moisture levels up.
20 October 2017
My kids adore Halloween and they love seeing all the amazing creative ideas for pumpkin carving but there's often a little bit of an issue with them – they're designed for adults to create and not for kids. Of course, there's nothing wrong at all with pumpkin designs for grown-ups – some of them are mind-blowingly amazing (you must have seen the Tinkerbell one, right? With a zillion stars? Game changer.)
But there are few of us who can look at the gorgeous intricate pumpkins with tiny drill holes all over them and think that they are going to let their kid near a pumpkin with a drill to recreate that – nope. So instead we looked for some ideas that kids can do themselves or with only a bit of help depending on how old they are so that they can join in rather than watch. Creating these five pumpkin designs kept my three and six-year-old busy for ages and got them super excited about what we'll be putting out for Halloween this year.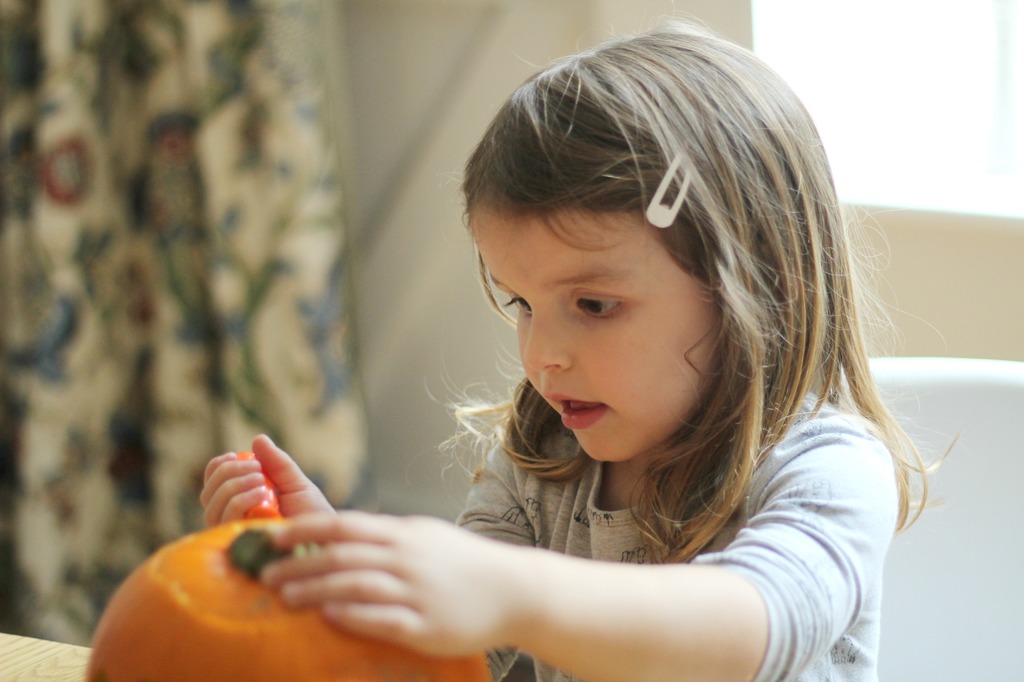 Tips for pumpkin carving with kids
Buy the pumpkin carving kits from the shops – yes, they do feel overpriced for what is essentially a couple of bits of plastic and a tiny flimsy knife but this stuff works and in my experience the pumpkin carving tool is not only a lot more effective than a kitchen knife it's a lot safer for kids too. The tool for planning out your design before you start cutting is also super helpful.
Have wipes and a bin bag at the ready – this is really messy work and you'll want to tidy as you go as much as possible.
Know what your child is capable of – after a summer of banging in tent pegs with a mallet I knew my daughter would be ok with a couple of careful, supervised bangs with a hammer. I would have been a lot more careful though if she didn't have that experience. As always with all things parenting just use a bit of common sense.
Don't let your kids look at pumpkin designs on Pinterest – yes, by all means show them a couple of things they might like to do but speaking from way too much experience I've learnt that if I show my kids something awesome on there they'll want to do that thing and unless you want to spend the next four hours of your life carving a scene from Star Wars out of the side of a pumpkin it's safer to just not go there.
5 pumpkin carving ideas to try with kids
Pumpkin Design Idea 1: Traditional Jack O'Lantern

A traditional Jack O'Lantern is a great pumpkin for kids to carve as they don't have to do anything too complicated for anyone to know what it is. Go for as friendly or scary as they fancy!

Pumpkin Design Idea 2: Vomiting Pumpkin

I know, gross huh? We saw one of these while trick or treating last year and I knew my son would jump at the chance to recreate it. This is also a really easy one to make as the main part of it is just cutting a big shape out for the mouth and pulling out the insides or using the insides from other pumpkins. If you make this one I'd highly recommend putting it on something easy to clean as none wants to spend Halloween evening scrubbing pumpkin vomit off their driveway in the dark.

Pumpkin Design Idea 3: Cat Pumpkin

Perfect for animal mad kids or just as a nice change from anything scary, pumpkin cats aren't too tricky to make and you can make the ears from bits of leftover pumpkins and hold them in place with cocktail sticks.

Pumpkin Design Idea 4: Cookie Cutter Ghost Pumpkin

Having obviously not followed my own tips and having a quick look at pumpkin designs on Pinterest the other week I'd seen a few people suggest using cookie cutters to cut out shapes from pumpkins using just a few taps with a mallet. Of course, our mallet being tucked away I thought we would carefully use a hammer but it wasn't enough to go the whole way through the pumpkin, mainly due to the fact that pumpkins are actually round and not nice and flat like cookie dough. Nevermind, the ghost-shaped cookie cutter went part of the way through and then we followed the rest of the shape with a pumpkin carving tool.

Pumpkin Design Idea 5: Scooby Doo Spooky Forest Pumpkin

This is such an easy idea it's one I think we'll do every year now. Simply cut a big shape out of your pumpkin, scoop out all of the goo and then put some moss and twigs in it to make it look a bit foresty. Obviously, no one solves a spooky mystery like The Mystery Gang so we popped a couple of our toys in it to complete it.
What are your favourite pumpkin carving creations? Show of your pumpkin designs in a comment below, or send us your photos for a chance to be featured on our social media pages. Don't miss our Family Guide to Autumn, plus our top picks for the places to go pumpkin picking near you, or 7 tips for picking the perfect pumpkin from the patch!