It's November and we all know it – Christmas is well and truly on its way! It's a safe bet you're already planning your Christmas Days Out and you're searching for the best Santa's Grottos near you, but we've got one more thing which deserves to make it on your festive list of things to do with the kids – lantern festivals.
So, without further ado, here's our guide to the best, most magical lantern festivals and parades near you!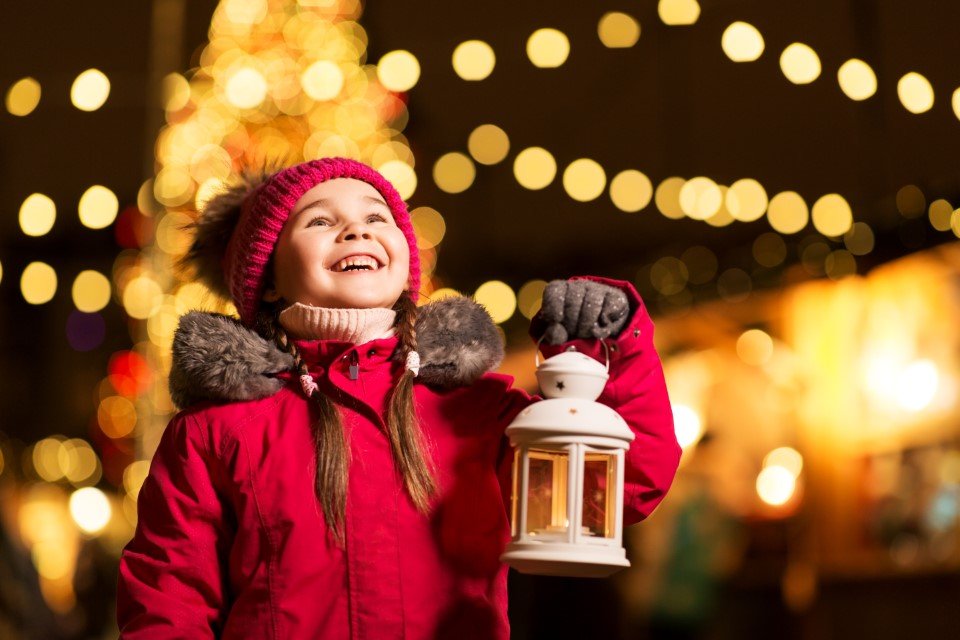 Illuminated Evenings at Fairytale Farm, Chipping Norton, Oxfordshire

12th October to 24th November 2022 (Saturdays and Sundays)

If you're after a magical weekend experience, this evening walk through an enchanted wonderland should do the trick! This month, Fairytale Farm will be in full glow, with colourful fairylights and giant glowing character figures across the farm. From The Mermaid Garden to Snow White's Castle and the Seven Dwarfs' house – there will be plenty fairytale lands to explore in the dark.

The adventure playground and the animal areas will be closed when the illuminations switch on, so make sure you come earlier in the day to enjoy them as well.

The Festival of Light at Longleat Safari and Adventure Park, Warminster, Wiltshire

9th November 2019 – 5th January 2022

If you live in the South West, Longleat Safari Park traditionally hosts some of the most splendid winter lantern festivals near you. This year is no exception! The 2019 Festival of Light will bring the world of Myths and Legends to life with a dazzling collection of lanterns and lights. This will be an epic journey of storytelling featuring characters from all over the world, including the almighty gods of Ancient Greece and the most fearsome monster in British folklore – the Kraken.

End the evening on a high and see a spectacular choreographed light projection on Longleat House – it's brand new for 2019!

Lumiere Durham 2022, Durham, County Durham

14th – 17th November 2022

Experience the 10th anniversary edition of the UK's largest light festival – Lumiere! With 37 artworks and installation, all using the power of light, this may be a step away from the traditional lantern festivals but it's a must-do event for anyone who loves a good evening illuminations spectacle. The shape-shifting video-mapped projections on the Durham Cathedral is absolutely spectacular!

Best of all, the event is absolutely free; the only time you'll need a ticket is if you want to visit the exhibits in the city centre area after 7.30pm. That's done to manage the crowds – it's a pretty popular event! However 26 out of the 37 artworks are out of the controlled zone, so you'll have plenty to see regardless.

Giant Lanterns: Lost Worlds at Edinburgh Zoo, Edinburgh, Edinburgh and Lothian

15th November 2022 – 26th January 2023

Here's another returning lantern festival! With an even longer route and over 600 brand-new lanterns, the 2019 edition of Giant Lanterns at Edinburgh Zoo is going to be bigger and better than ever. Oh and we haven't even gotten to the most exciting part… Ready? The event will be dino-themed!

Designed under a Lost Worlds theme, the festival will bring you up close with the creatures that lived on Earth 570 million years – from the tiniest microbes to the most giant of dinosaurs. Just picture how excited the kids will be standing face to face with the huge lantern dinosaurs…

Evesham Festival of LIght Lantern Parade, Evesham, Worcestershire

16th November 2022

If you simply want to take the kids to a traditional lantern parade, The Evesham Festival of Light will give you the perfect classic experience, and it will be completely free of charge. It doesn't get much better than that, does it?

The procession will start at Abbey Bridge. You'll see the beautiful illuminated lanterns parade along the riverside, under the Bell Tower, and you'll end up at the Market Square. Feel free to bring a torch or even your own lantern and get involved.

Glow Wild 2019 at Wakehurst Gardens, Ardingly, West Sussex

21st November – 22nd December 2022

Running for a sixth year in a row, the lantern festival at Wakehurst Gardens has everything you'd expect from a great family event – hundreds of glowing lanterns, fire torches, projections and soundscapes, plus arts and crafts and delicious food!

So what can you expect? From seeing the tallest living Christmas tree in the UK glow with 1,800 lights, to following dancing shadows through a willow tunnel – you'll be in for a truly mesmerising experience. For just £4 extra, the kids can take part in a lantern making workshop and channel all the inspiring experiences into making their own masterpiece.

Alice in Winterland at Lightwater Valley, Ripon, North Yorkshire

22nd November – 30th December 2022

Hundreds of magical lantern displays will light up the grounds of Lightwater Valley this winter. The theme is Alice in Wonderland with a seasonal twist, so you can expect to see some of your favourite book characters transformed into lantern installations. From the Mad Hatter to the Queen of Hearts, to The Jabberwocky and Alice herself – they'll all be there!

The theme park itself will be closed but classic fairground rides, such as the carousel, will be available to entertain the little ones. With the Indoor Play Area and Young Fun Rides open too, your mini adventurers will have lots to keep them occupied…that's if you can get them away from the lanterns!

Bolsover Christmas Festival and Lantern Parade at Bolsover Castle, Bolsover, Derbyshire

30th November 2022

Come to Bolsover Castle and be part of the annual Bolsover Christmas Festival and Lantern Parade – having been going on for 26 years, it's a proper local tradition! If you live in the area (S44 residents), you can even enter the castle for free. The lantern parade will start from the castle grounds and will continue into the city centre. It may not be as big as some of the other events on this list but it's definitely packed full of seasonal spirit.

If you want to make your own lantern for the parade, Junction Arts organises lantern making workshops every weekend in November at Bolsover Assembly Rooms.

The Lanterns at Chester Zoo, Chester, Cheshire

22nd November – 23rd December 2022

Animals lovers of all ages know that Chester Zoo is one of the best places in the region to see weird and wonderful wildlife. However, you may not know that it's also home to one of the best lantern festivals near you. Come and prepare to be amazed as you discover lifelike tigers, zebras, birds and lots more amazing lantern creatures throughout the zoo.

You're invited on a wildlife expedition through three different zones: you'll journey from the depths of the sea in Underwater to the exotic Tropical Dreams and the heights of the Night Sky Adventure. In addition to the magical lanterns, there will also meet an array of costumed characters. Father Christmas will be there too with his reindeer!

Lantern Parade, Small World Cardigan Theatre, Cardigan, Ceredigion

6th December 2022

The Giant Lantern Parade organised by Small World Theatre is about to make Cardigan shine again in 2019. Starting on Cardigan's main street, the procession will feature hundreds glaring lanterns of all shapes and sizes, and it will end in Cardigan Castle.

You can join in on the preparations for this delightful Welsh extravaganza by taking part in the public lantern making workshops 10th, 24th November and 1st December at Small World Theatre.

Enchanted Audley End House, Audley End, Saffron Walden, Essex

5th – 30th December 2022

A winter spell of light has been cast over Audley End House and Gardens – get ready to explore and allow yourself to be immersed into the feeling of wonder. Warm scarves and wellies on, and you're all ready to go down the outdoor trail and experience the lights. There will be a mix of static and interactive installations to see, plus a selection of fairground rides for the kids to enjoy (small extra cost applies).

The way entry works is that you'll choose a timeslot to go inside (after 4.30 pm), however, you can stay as long as you like and take in the sights.

Glow 2019 at RHS Garden Wisley, Woking, Surrey

7th December 2022 – 5th January 2023

Our list of magical lantern festivals just wouldn't be complete if it didn't feature Glow 2019 at RHS Garden Wisley! Featuring a dazzling botanical-inspired lanterns installation and thousands of fairylights throughout the garden, this is one huge experience for the whole family. There's a brand new route for 2019, so it will all feel new, even if you've been to the event one of the previous years.

Also, inside the Glasshouse, you'll find a beautiful Enchanted Botanical Christmas light installation, featuring Christmas trees and reindeer for some extra festive feeling!

East Belfast Lantern Parade, Belfast, County Antrim

7th December 2022

How about a nice, family-friendly local community event? If that sounds like your cup of tea and you find yourself in Northern Ireland at the start of December, you should visit the East Belfast Lantern Parade. Hosted by three local organisation, the event will feature music, fireworks, and of course – lanterns.

Strand Arts Centre is organising lantern making workshops throughout November for those of you who want to get crafty with the kids. Make sure you book your spot for those early on, they do sell out quite quickly.

Shugborough Lantern Parade at Shugborough Estate, Stafford, Staffordshire

20th – 21st December 2022

Immerse into the magical world of lanterns and venture on an after-dark journey through the Shugborough Estate. Run by B-Arts, who have over 30 years' experience in creating inclusive, outdoor arts events under their belt, The Shugborough Lantern Parade promises to be a proper family experience. Sounds, lights and great friends – it's a recipe for a wonderful outing!

Your event ticket gives you access to the whole estate during the day of the parade, so why not make a whole day of it? This will be one thing to do with the kids this winter that won't cost you an arm and a leg either.

Lightopia at Chiswick House and Gardens, London, Greater London

22nd January – 1st March 2022 (Wednesday to Sunday)

The Lightopia event at Chiswick House and Gardens may not fall exactly in the festive season, as it takes place in early 2020 but it is one of the best lantern festivals in the UK, so we decided it deserves a place on this list. After all, who says magical lanterns have to all be done before Christmas?

With interactive light pieces on display, this is both a creative and spiritual event. Reflecting the timelessness of nature, the designs represent Lightopia, a spiritual society that exists only in the works and ideas of its creation. All we know is that promises to be a truly stunning display!
We hope you've enjoyed our list of magical lantern festivals near you. Don't hesitate to tell us how your lantern festival with the kids went and of course – show us those all-important pics!
Things to do in Gloucestershire | Things to do in Ceredigion | Things to do in Wiltshire | Things to do in Cheshire | Things to do in the West Midlands | Things to do in Greater London | Things to do in Cornwall | Things to do in Edinburgh & Lothian |  Things to do in Merseyside | Things to do in Isle of Wight
For more Wintry days out, check out our guide to Festive Family Days, or find more ideas here:
Best Santa's Grotto  | Best Christmas Days Out  | Top outdoor ice rinks in the UK  | Best Christmas Markets  | Coca Cola Truck Tour Dates |
Best Winter Wonderlands in the UK