Monsters beware, you're in for a scare… the countdown to Halloween is officially on! This time of year, we love nothing more than to pick up some seasonal books, carve some pumpkins to display on the windowsill and whip up some spooky treats. It takes no time at all to find some Halloween baking inspiration online, yet some of the ideas can be rather time-consuming and fiddly. So instead, we decided to look out for some recipes that we could easily adapt ourselves to make them a little more straightforward and easy enough for the kids to join in too! The results are below and we're thrilled at how well they turned out considering how easy they were to whip up. We promise you'll have some fun making these!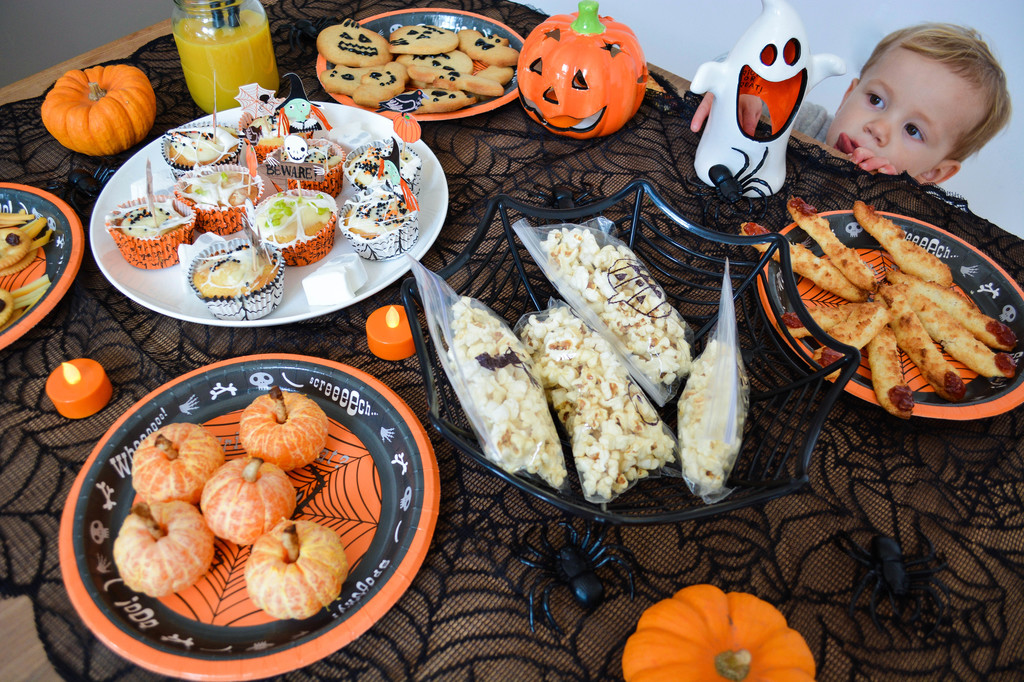 Spider Crackers


You'll need: Crackers, Stringy Cheese, Raisins.

If you're looking for a spooky savoury snack then these spider crackers are right up your street! Simply pull some stringy cheese off for the legs and lay them between two crackers. Finish off your spiders with some little raisins for the eyes!
15 Minute Scary Shortbread Cookies


You'll need: 500g plain flour, 500g butter, 200g caster sugar, 1 Tspn vanilla extract, black icing.

These cookies take no time at all to make and are perfect for little ones to help out with. Before you get started preheat your oven to 180 C. Next up, combine softened butter and sugar and stir in vanilla extract until smooth. Then add your flour and mix well. Put some flour onto a chopping board/worktop and roll out your dough to roughly 1cm thickness and use your Halloween biscuit cutters to cut out your shapes. You can keep rolling out the dough until there's none left. Bake for 10 to 12 minutes. Decorate with some icing!



Movie Night Popcorn Bags

You'll need: ziplock bags, marker pen, popcorn.

These popcorn bags are great for getting the kids to use their imagination and draw out their favourite Halloween characters. Just remember to use a permanent marker so that the design doesn't rub off. Once your designs are finished, simply fill the bags with popcorn. You might want to keep an extra close eye on any little ones, unless you're OK with some new artwork appearing on your walls in permament marker…
Tangerine Pumpkins


You'll need: tangerines and Twiglets.

Who knew tangerines also make amazing miniature pumpkins! Twiglets make great pumpkin stalks, however, you can use anything you have in the fridge such as thinly chopped celery or a green apple.
Spiderweb Cupcakes


You'll need: Halloween cupcake set, cupcake mixture, marshmallows.

This cupcake design happened by complete accident, but we loved the results! Firstly, whip up your cupcakes and let them cool. Pop a couple of marshmallows into a bowl and microwave for 15-20 seconds. Once they've cooled you can use a fork or a cocktail stick to scoop some of the mixture out and drape it over your cupcakes. It's a super sticky job but at least you don't have to worry about how messy they get – that's the charm!
Grandma GG's Witches Fingers


You'll need: 400g sweetened desiccated coconut, 400g sweetened condensed milk, 1 tsp vanilla extract, 2 large egg whites, at room temperature, 1/4 tsp salt & Jam.

Grandma GG's easy Witches Fingers are always a hit and taste delicious! Preheat the oven to 180°C. In a large bowl combine the desiccated coconut, vanilla extract and condensed milk. In a separate bowl whip up the egg whites and salt until fluffy (an electric mixer is helpful here). Afterwards, gently fold the egg whites into the coconut mixture. On a baking tray carefully make your fingers by lining them up on some baking paper (not too thick as they spread). Bake for 15-20 minutes. Once cooled, dip in some Jam to create the nails. Yum!!



What Halloween treats will you be cooking up this year? Let us know your tricks and tips in a comment below!
For more yummy ideas check these out:
Easy pancakes recipe | 5 tips for baking with kids | Rainbow cupcakes recipe | Easter nest fairy cakes | Picnic hacks for parents | Best places to eat out with kids in the UK | Healthy snacks for kids