Easter will soon be upon us…easter bunnies…more chocolate than the eye can see…and crafts everywhere! It's a fun and creative time for your kiddies (and for the parents who help too), and the most exciting craft is easter bonnets! There are loads of themes you can make for your easter bonnets, that will be adored by everyone! We've rounded up 8 ideas for you, so you can get stuck in and make them with your kiddies ahead of time!
8 Easter Bonnet Ideas:
1. Bunny Rabbit –
Kids love rabbits, they're cute and incredibly fluffy. And with their easter creation…they can have a bunny rabbit on their head!
You'll need:
A straw hat

Cotton balls
Pink pipe cleaners
White and pink pieces of card
Pink felt tip pen
1. Grab your straw hat and use glue to stick your cotton wool balls all over the hat, to create the bunny's head.
2. Using your pink and white card, draw and cut out the bunny's nose and eyes and then stick them onto the cotton balls to create the face.

3. After, take 4 pink pipe cleaners and stick them on each side of the bunny's face, for the whiskers!

4. To complete the bunny, using the white and pink card again, cut out some bunny ears and stick them to the top of the hat. And there you have it! A bunny rabbit hat for your little kiddies head.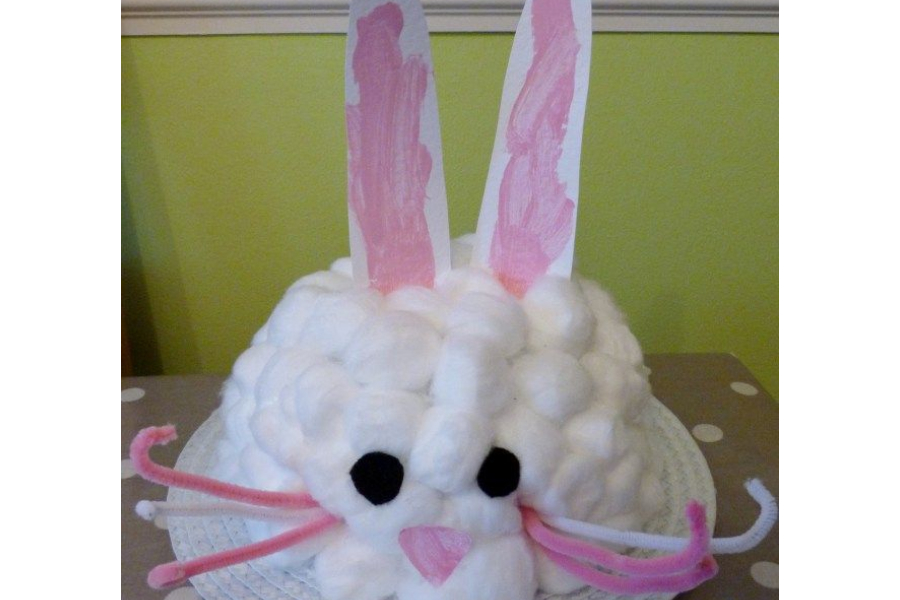 2. Bird Nest –
There's no easter without the eggs, so you could make a birds nest!
You'll need:
A straw hat
Pieces of coloured card (any colour you want)
Green tissue paper strips (can make your own out of tissue paper)
Some little cotton ball chicks
Brown pipe cleaners
Mini chocolate eggs
A DIY easter bonnet project that will end up adorable.
1. Using the coloured card, cut a strip wide enough to cover the outside part of the straw hat where the head goes. Have your kids decorate it however they like, whether it's with shapes, easter themed pictures, coloured pens and so, once they've finished, stick it around the hat.
2. Then comes the fun part, ripping up green tissue paper or cutting them into strips! This will make part of your 'nest'. Stick the tissue paper in the middle of the hat where you stuck the cardboard around.
3. Next, grab some brown pipe cleaners and fold them into a bowl shape, then this will be the nest where the eggs will lay. Stick that on top of the green tissue paper.
4. Finally, place some chocolate eggs in the pipe cleaner nest, and there you have it!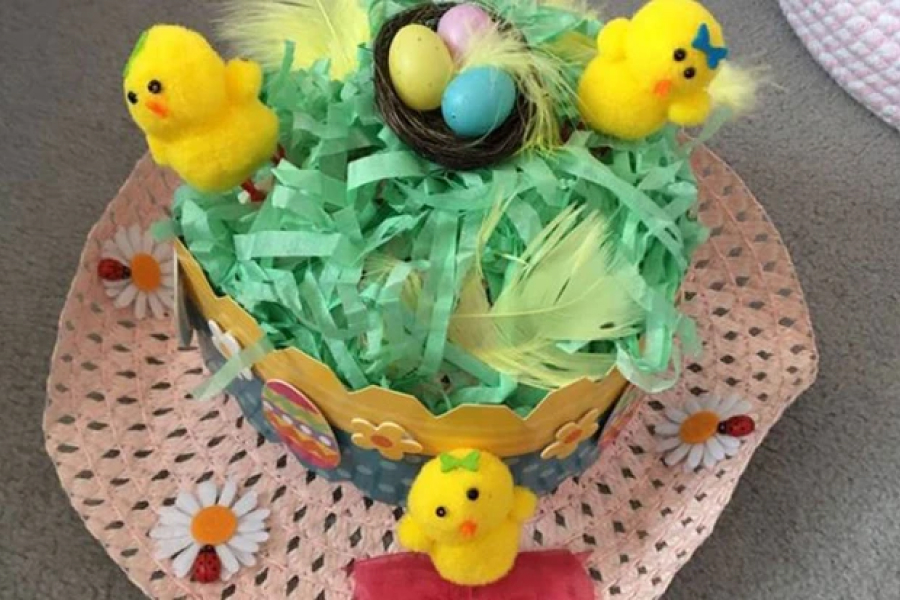 3. Glitter Easter Bunny
Have your kids stand out from the crowd with an Easter bonnet hat that glitters!
You'll need:
A top hat
A paintbrush
Lots of glitter (any colour your want)
PVA glue
Pre-made rabbit ears/headband
1. To start with, make sure you lay out some newspaper somewhere to collect the glitter. Then place your tophat on the paper and using your paintbrush spread PVA glue all over the hat.
2. Sprinkle glitter all over the hat, a couple of times to ensure the whole hat is covered with glitter!
3. Staple or stick on the rabbit eats/headband onto the base of the top hat. And there you have it! An Easter bonnet hat that won't be forgotten anytime soon.
4. A Paper Flower Bouquet –
An adorable Easter bonnet hat idea is by making a flower bouquet! It's simple and fun to make.
You'll need:
A straw hat
Variety of coloured tissue paper
A handful of buttons
1. First, layer your straw hat with one coloured tissue paper, that'll be the base of your bouquet.
2. Using tissue paper cut into squares, stick them onto the hat. And then crinkle them a little, so they somewhat resemble flowers. Unless you're able to make flowers out of paper itself (if you're crafty!).
3. Layer another coloured tissue paper onto the previous one, in a different direction and crinkle them too. It should start to look like flowers! If not, keep layering tissue paper on.
4. Stick a button in the middle of the tissue paper flowers.
5. If you have a bumblebee craft to hand, add one of those onto the flowers and then you have your DIY flower bouquet!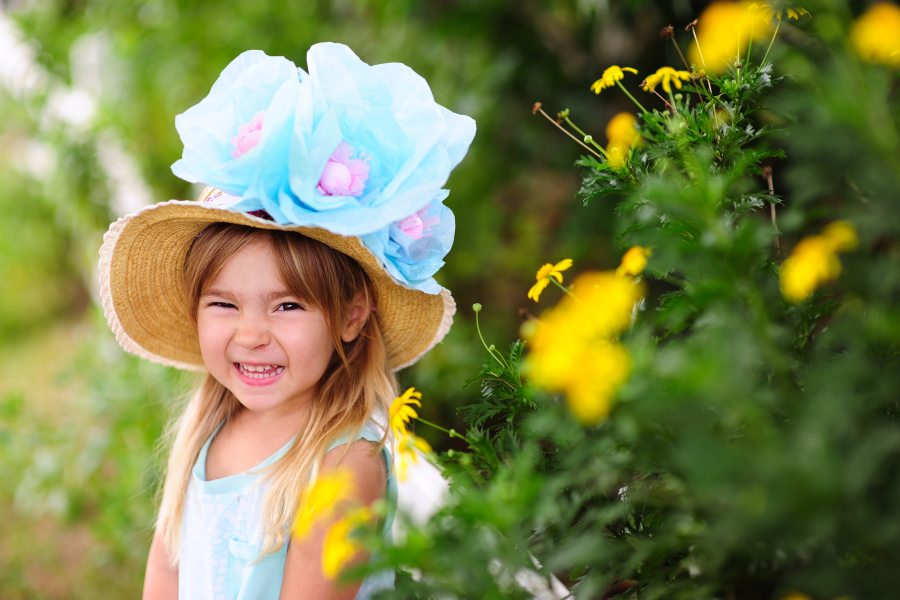 5. Spring Time Easter Bonnet –
For a simple but effective Easter bonnet, a spring theme one will be a lovely idea.
You'll need:
A straw hat
Some soft mini chicks
Mini eggs (chocolate or not!)
A few sprigs of different flowers (daisies, daffodils, or whatever is around)
1. Stick your flowers around the brim of the straw hat.
2. Stick the chicks in a few places in the flowers.
3. Add the mini eggs by the chicks.
4. Reorganise or add some more flowers or eggs if desired and there you have it! A simple, but adorable spring-time Easter bonnet.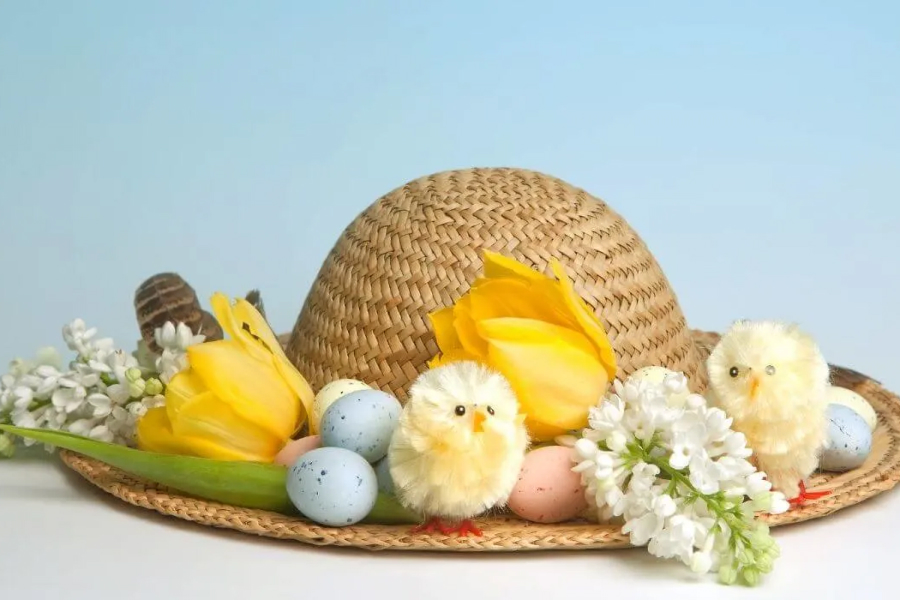 6. A Sheep Hat!
Easter means springtime, and that means sheep and baby lambs! So, why not have your kids wear an Easter bonnet of a tiny sheep?
You'll need:
A straw hat
Cotton wool balls
Black card
Googly eyes
Green tissue paper
Foamflower stickers
1. Using the cotton wool balls, stick them over the rounded part of the straw hat, this will create the body of the sheep.
2. With the black and white card, cut out the sheep's ears and. Then stick them onto the cotton wool body, then stick on two googly eyes! And you have your sheep.
3. Next, cut strips of green tissue paper, and stick them onto the rim of the straw hat, this will be the grass the sheep is on.
4. Finally, stick some foam flowers on the green tissue paper, to create a garden. And ta-da! You have yourself an Easter lamb bonnet.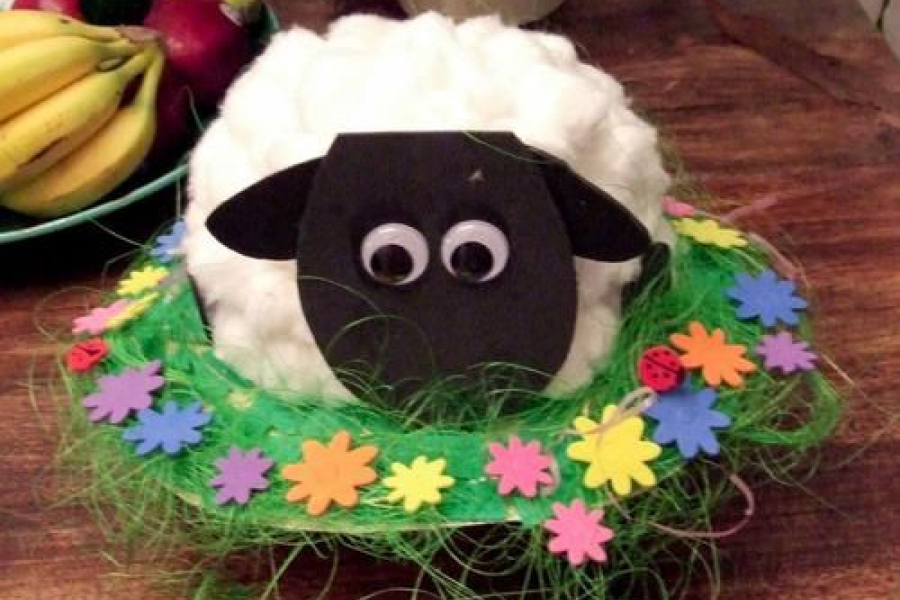 7. Carrot Party Hat
If you're struggling for time with making your Easter bonnets for the kids, then this will be simple but effective.
You'll need:
Orange party hats
Green card
Cotton wool ball
Pink card
Black marker
1. Since you have the base of your carrot with the orange party hat, you need to make the stalk. Using the green card, cut out big pointy strips, and stick them around the base of the hat.
2. Draw on some carrot lines (if you want).
3. Grab your cotton ball, and stick it on the side of the party hat. Using your black marker, add two dots for the bunny's eyes.
4. With the pink card, cut out tiny strips for the bunny's ears and whiskers. Then stick the on to the cotton wool ball.
And there you have it, a carrot party hat with a small bunny on the side (which is optional, you can just stop at the carrot bonnet)
8. Easter Bunny Party Hats –
Another party hat idea is to create a carrot! This will be quick, easy and most importantly…fun!
You'll need:
A bunch of party hats (can be any design or colour your kids want)
Pieces of white card
Pink colouring pencils
Small pom poms
1. Stick the pom poms on the points of the party hats.
2. Cut curved strips of white cards out and colour the bottom of one side pink (to represent the inside of the bunny ears).
3. Then fold the two points of the card over and stick them together, so it resembles the shape of a bunny ear.
4. Once you've made two ears, stick them onto the party hat, and you've got your own Easter bunny party hats!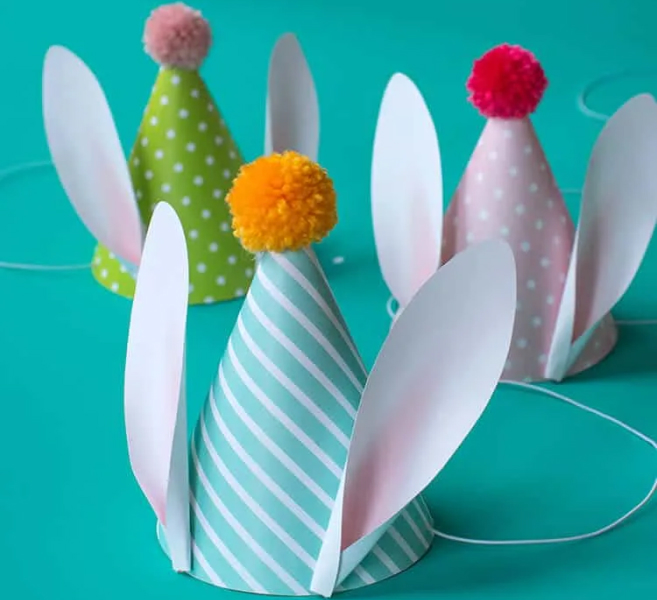 We hope you're ready for sticky fingers, glitter on the floor and arts and crafts in full swing! Because it'll be a fun and exciting time for your kiddies. If you're looking for things to do during the Easter holidays too, check out our blogs:
10 Fun Things To Do Near You | Free fun family days out | Things To Do With Teenagers | Days Out Membership | Outings for Stroppy Teens